The SMC has built a spatially representative, regional data set reflecting the biological condition of streams across coastal southern California over the past decade – an important milestone for the SMC Regional Watershed Monitoring Program that underscores the value of investing in a long-term monitoring collaboration.
A recent analysis of 10 years of bioassessment data from the SMC Regional Watershed Monitoring Program found that the biological integrity of most wadeable streams across coastal southern California has generally been stable over a decade-long span that ended in 2018.
About one in four stream-miles across the South Coast region is considered to have biological communities that are "likely intact" – the highest of four possible stream condition categories. The other three-quarters of the region's stream-miles are considered to have possibly, likely or very likely altered biological communities.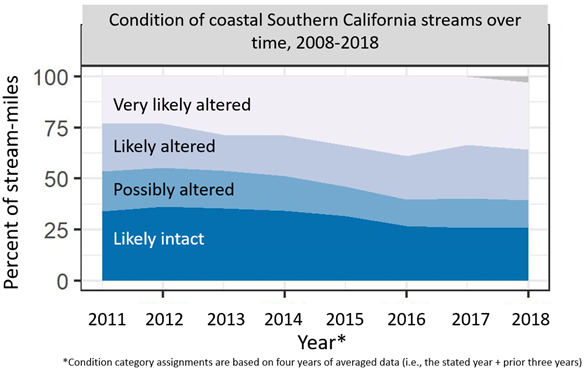 SMC bioassessment monitoring uses a probabilistic sampling design that enables managers to sample about 90 stream sites each year, including revisiting a statistically representative subset of sites each year. Then, the SMC can use the bioassessment data to estimate the overall condition each year of the approximately 4,000 kilometers of wadeable streams that drain to the coastal ocean. The SMC's regional bioassessment monitoring program, which began in 2009, runs in five-year cycles.
As bioassessment monitoring data have provided an increasingly clear picture of regional stream condition, the SMC has been able to take on new investigations to answer additional management questions about watershed condition.
During the program's third cycle – which will kick off with field sampling this spring – the SMC will leverage the program to pursue multiple new regional studies, including:
A causal assessment investigation that will work to determine why some stream reaches with good physical habitat are in poor biological condition
A study to increase data collection in high-interest but under-sampled areas or stream types, including soft-bottom channels and small urban creeks
An effort to map flow conditions to better understand where perennial, intermittent and ephemeral streams are located
Over the past decade, SMC bioassessment monitoring data have been used in a number of ways, including:
To develop two statewide tools for scoring stream health – the California Stream Condition Index (CSCI) and Algal Stream Condition Index (ASCI) – that are now used in routine stream monitoring programs statewide
To develop an integrative tool – the Stream Quality Index (SQI) – that combines biological, chemical and physical habitat data into a single overall assessment of stream health; the SQI helps managers prioritize streams for protection and remediation
To complete the State's annual Integrated Report on the condition of streams in California; in the most recent report, SMC data was used to identify a number of impaired streams, as well as high-quality streams where beneficial uses are supported
To establish a scientific foundation for stream biointegrity and biostimulatory substances policies at the State and regional levels
Dive deeper
SMC Spring 2021 Newsletter
Volume 1, Issue 3
This newsletter is published three times a year by the Southern California Stormwater Monitoring Coalition (SMC). To subscribe to this newsletter, contact [email protected].