The SMC has launched a multi-year effort to measure whether routine street sweeping makes a measurable impact in reducing contamination in runoff that enters storm drains and contributes to impaired water quality.
The investigation, which is beginning with a three-year pilot study, is working to measure how much bacteria, nutrients, trace metals and other common contaminants are transported from streets into storm drains via runoff, and whether street sweeping can be effective in preventing at least some of this pollution from finding its way into runoff.
In addition to monitoring traditional runoff pollutants, the SMC also is investigating if street sweeping reduces the levels of microplastics in runoff; the microplastics investigation is being conducted in partnership with the City of Santa Barbara.
Street sweeping is routinely used in stormwater management programs across southern California to prevent trash and other debris from entering and clogging storm drain systems.
What managers want to know is whether street sweeping also can be effective at removing stormwater pollutants – pollutants that may otherwise be impairing downstream water quality.
The first round of field work launched in summer 2023 at a single site. Based on results from this initial proof of concept, the SMC will have the option to expand the study to include more sites.
The study design that researchers envision using will compare street segments that are swept with similar street segments that are not swept to serve as the control group. A custom-built rainfall generator will be used to create controlled rainfall patterns for both sets of street segments along 84 square feet of surface area.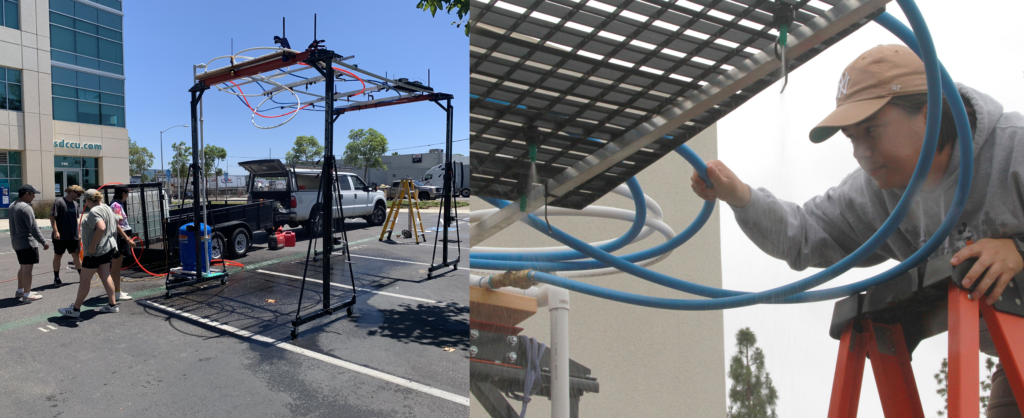 Researchers will then compare any differences in pollutant levels generated by the street segments that were swept vs. the street segments that were not swept.
For more information, contact Dr. Elizabeth Fassman-Beck with the Southern California Coastal Water Research Project (SCCWRP).
Dive deeper
SMC Summer 2023 Newsletter
Volume 4, Issue 1
This newsletter is published three times a year by the Southern California Stormwater Monitoring Coalition (SMC). To subscribe to this newsletter, contact [email protected].